Supporting the Red Cross's Disaster Relief Efforts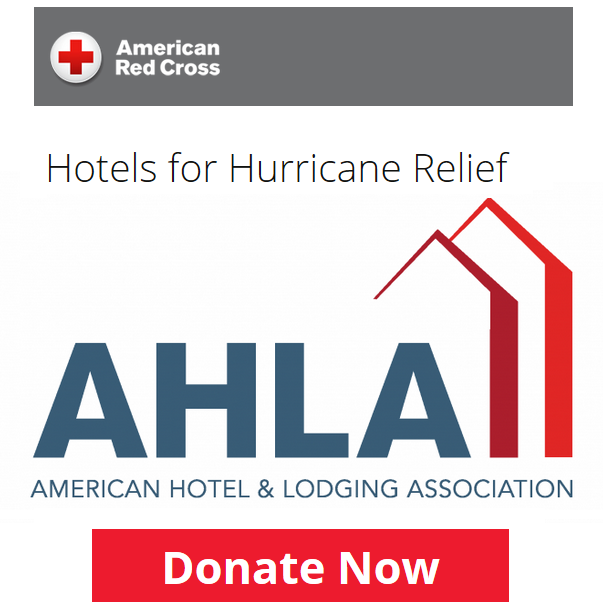 In the aftermath of Hurricanes Irma, Harvey and Maria, entire regions of Texas, Florida, Puerto Rico and beyond have been devastated.  As cornerstones of our communities, we are extremely proud of the hotels who provided shelter, security and resources in these areas. Many of these stories are available here and highlighted below.

To further our industry's commitment to helping those affected by these damaging storms – whether our guests, our employees or our community partners -- AHLA has developed Hotels for Hurricane Relief, a dedicated online fundraising campaign for the Red Cross. In the spirit of hospitality, we encourage AHLA members to please give generously.  Donations will be given directly to the Red Cross's disaster relief program to aid in all hurricane recovery efforts. Many of these stories are highlighted below.
For AHLA members outside of these affected regions, Hotels for Hurricane Relief  is a great opportunity to do our part and offer support during this time of great need. Please note, that in addition to the Red Cross fund, the Mayor of Houston and the Governor of Florida have created specific funds if you wish to donate there as well.  AHLA has also supported these efforts; however, we wanted to provide an easier way for the industry to cumulatively come together to donate to these important disaster relief efforts. 

While these powerful storms have since passed, the devastation they inflicted will remain for some time.  As these communities rebuild it is important that we continue to offer our help in any way we can.  When the hotel industry comes together to assist the communities where our employees and valued guests live and work, the positive impact we have knows no bounds. 
---
HOTELS ON THE FRONT LINES

Texas Hotel & Lodging Association
The Texas Hotel & Lodging Association team has been tirelessly coordinating with the Governor's office, local government, FEMA, and emergency personnel, responding to issues that arise during this time of emergency. They have been releasing regular, timely updates and will continue to be a valuable resource in the coming days and weeks. Visit THLA's website for the latest information.
Marriott International
Marriott International has over 30 hotels in the path of the storm. While most of our hotels remain open, they continue to assess the extent of impact on each hotel and efforts are underway to fully restore operations in those properties more significantly affected by the storm.
To help those in need, Marriott International and The J. Willard & Alice S. Marriott Foundation are each contributing $250,000 to the American Red Cross, for a total contribution of $500,000. In addition, members of Marriott Rewards, Starwood Preferred Guest, and The Ritz-Carlton Rewards loyalty programs have the option of donating points as contributions to the American Red Cross.
Hilton
Hilton has over 110 hotels in the path of the storm, and many of the hotel employees are volunteering to help in the rescue efforts.
Hilton chefs are assisting at the Houston Convention Center to prepare food for the thousands of evacuees seeking shelter. The Houston Police Department has moved their command center to Hilton Americas-Houston, while the hotel is offering complimentary meals and services. Even employees from Hilton Houston Post Oak drove a pregnant woman in labor to the hospital.
To help those in need, Hilton is contributing $500,000 to the American Red Cross, Hurricane Harvey Relief Fund, and the Hilton Responds Fund, and the Conrad N. Hilton Foundation has pledged to commit $500,000, for a total of $1 million contributed by the two organizations.
Wyndham Hotel Group
Wyndham Hotel Group has partnered with multiple organizations so that first responders and emergency services have rooms as close as possible to the areas in need. This includes over 500 rooms currently booked for IBM, CBI, ALE, CLC, FEMA, American Red Cross, and many others.
Wyndham has also activated its immediate Associate Disaster Benefit Plan. In addition, associates from across the globe are making personal donations to assist colleagues by mobilizing supply drives and contributing to the company's Associate Relief Fund. They are also donating to Wyndham's global philanthropic partner, Save the Children, which has emergency teams on the ground providing local assistance to families. Wyndham Worldwide has also created a fund-matching program, dollar for dollar, to maximize this support.
Hyatt
Hyatt hotels across Texas and other impacted regions are working closely with local officials to continue assessing the situation and are supporting guests and colleagues as needed. 
Through Hyatt's partnership with the American Red Cross, the company has activated a donation page to support those in need. The company will also match Red Cross donations on its webpage through September 30th up to a total of $25,000.
IHG
IHG has more than 150 hotels in the path of the storm and approximately 50 hotels that have been impacted due to flooding, power and communications outages, and other related disruptions due to extreme weather conditions or mandatory evacuation orders.
As IHG hotels have activated several forms of support to assist hotels, colleagues and guests.
The company has activated the IHG Colleague Disaster Relief Assistance Fund, which helps colleagues with immediate needs such as food and clothing in the wake of disaster. 
IHG is donating $250,000 to the American Red Cross, a long-standing partner, specifically to help those impacted by Hurricane Harvey. In addition, the IHG Owners Association has donated $10,000 to the IHG Foundation, which IHG has matched, to deliver even more support to the American Red Cross. These efforts are in addition to an existing IHG Foundation grant of $250,000 to the American Red Cross for its "Disaster Responder Program," which supports disaster preparedness efforts. 
IHG has activated a Hurricane Harvey donation portal on the IHG Foundation website for colleagues and guests to donate to the IHG Foundation. Those funds will be delivered to the American Red Cross for ongoing relief efforts related to the storm.
IHG Rewards Club also launched a fundraising campaign where all members can donate their points to the IHG Foundation, and these proceeds will be donated to the American Red Cross for Hurricane Harvey relief.
Best Western Hotels & Resorts
Best Western Hotels & Resorts is monitoring the impact of Hurricane Harvey and assisting hotels in need of support, from informing hotels of disaster services, providing online and system support, assisting guests, offering meals and suggesting food locations, and recommending how to ensure its hotels can operated with limited services. The brand has made a $10,000 donation to the American Red Cross.
Red Roof
Red Roof properties in the Houston, Texas and the surrounding areas have offered free or discount rooms to victims and Red Roof employees. Being a pet friendly brand, the hotels have housed many families who have evacuated their homes with their pets. The properties are not only providing rooms and a safe, dry place for guests to stay, they are also donating extra supplies they have on property including blankets, comforters, pillows, and toiletries. 
Some Owners and General Managers are providing food for guests on property like Vinod Patel in Willis, Texas, providing dinners for 150 people staying at his property. Several Red Roof properties are also working with FEMA to provide rooms to those that have lost their homes as well as those that are coming to the Houston are to provide relief.
Red Roof has pledged to donate $10,000 to the American Red Cross. The brand is also creating a donation drive among corporate office employees. Red Roof has also put a link on redroof.com, which offers several inns to seek shelter in the area with affordable rates, and a link to donate to the relief fund.
La Quinta
As a Texas based company, La Quinta has been deeply involved on many fronts as it relates to Hurricane Harvey and continues to monitor and assist with the hotels impacted in the Gulf Coast region.  La Quinta hotels throughout the state of Texas are housing first responders, recovery workers, displaced families and FEMA guests. La Quinta has also donated 9 million La Quinta Returns points and $25,000 to Team Rubicon as they deploy to the affected areas hundreds of military veterans and civilian volunteers to help with the recovery efforts.  A site has been launched for La Quinta Returns members to donate their points and designate them for Team Rubicon to assist volunteers during the operation in the months to come: www.lq.com/teamrubicon . Additionally, through its social giving team, La Quinta is sending care packages and organizing donation/volunteer opportunities to assist employees in the impacted areas.
Concord Hospitality Enterprises Company
Concord Hospitality Enterprises Company has set up a micro site through the American Red Cross so that their team members can directly support the relief efforts. Within hours of initiating the site, they gathered 30 contributions, totaling over $2,000.
Concord hotels in the area are housing displaced residents, first responders, volunteers and team members while helping guests in any way they can, from ensuring guests remain comfortable, mopping wet floors hourly, accommodating pets and even finding empty boxes and bags to create makeshift litter boxes and pet crates. 
New Castle Hotels
New Castle Hotels initiated a fundraising campaign in all their hotels and corporate offices when the storm hit in both US and Canada. The company will be donating the funds to the American Red Cross for those in need in Houston.
Prince Organization
Prince Organization has been offering complimentary hotels for up to 3-5 days for evacuees and people in need.   
/sites/default/files/2017-10/ahla_hurricanerecovery.pdf
---