AHLA Position
Transparency, consumer choice, and guest satisfaction are at the core of the hotel industry's business model. AHLA is raising awareness among consumers, Congress, and federal agencies to make sure guests have all the necessary information prior to booking their hotel reservations. With so many ways to book a reservation, it's important to make sure consumers understand how to slow down, search smarter and make the best decisions throughout the booking process for themselves and their families. Consumers should know what to look for before they book a hotel reservation.
Have you been scammed or deceived when you booked a hotel reservation? File a complaint here.
Key Stats
New research suggests that online hotel booking scams and fraudulent and misleading marketing practices are an ongoing and widespread problem. Consumers are being misled into making hotel reservations through fraudulent and misleading websites and call centers operated by third-party affiliates of online booking agencies – giving the false appearance of being affiliated with the hotel.
23% of consumers report being misled by third-party traveler resellers on the phone or online
That translates into 28.5 million hotel stays and $5.2 billion in fraudulent and misleading hotel booking transactions in 2017
These third-party travel resellers use a variety of marketing tactics to mimic hotel websites and call centers but are not, in fact, affiliated with the hotel. These fraudulent and misleading transactions can cost consumers time and money, resulting in lost reservations and additional fees. Of travelers who reported being misled:
46% were charged extra fees on their credit card
44% requested a special room but that request was not relayed to the hotel
34% had their reservation lost and had to book a new room, losing the cost of the original reservation
With 500 hotel bookings happening online every minute, it's more important than ever that consumers pay close attention when booking reservations online.

Consumers want more transparency in the online booking process, as well as greater protection from the government.
74% of Americans agree consumers should know who they are doing business with when booking hotels online
72% want the government to make it a higher priority to enforce consumer protection laws against third party hotel resellers
In December, the Federal Trade Commission settled a federal lawsuit with Reservation Counter, LLC, a third-party hotel booking reseller accused of using call centers and websites to mislead consumers into believing they were booking, and speaking, directly with a hotel. Reservation Counter also did not disclose that a traveler's credit card would be charged immediately instead of upon check-in. The settlement resulted in Reservation Counter no longer being able to mislead consumers through these types of practices.
AHLA applauds the FTC's action, which has brought renewed attention to this issue. The fact that nearly one in four consumers reports being misled by third-party travel resellers, and the constant flow of new companies entering the online travel market, suggests we need to do more to protect consumers.
That's why AHLA is asking Congress to pass the Stop Online Booking Scams Act, a bill that would protect consumers by increasing the transparency and security of the online booking process.
In the meantime, AHLA encourages consumers to book directly through the hotel website or mobile app, or through a trusted travel agent. In addition to helping consumers avoid scams, direct booking often results in the best deal and more travel perks and benefits.
AHLA is a national partner of the Better Business Bureau (BBB), which offers a tips page to educate consumers on how to avoid costly and painful scams when booking hotels online.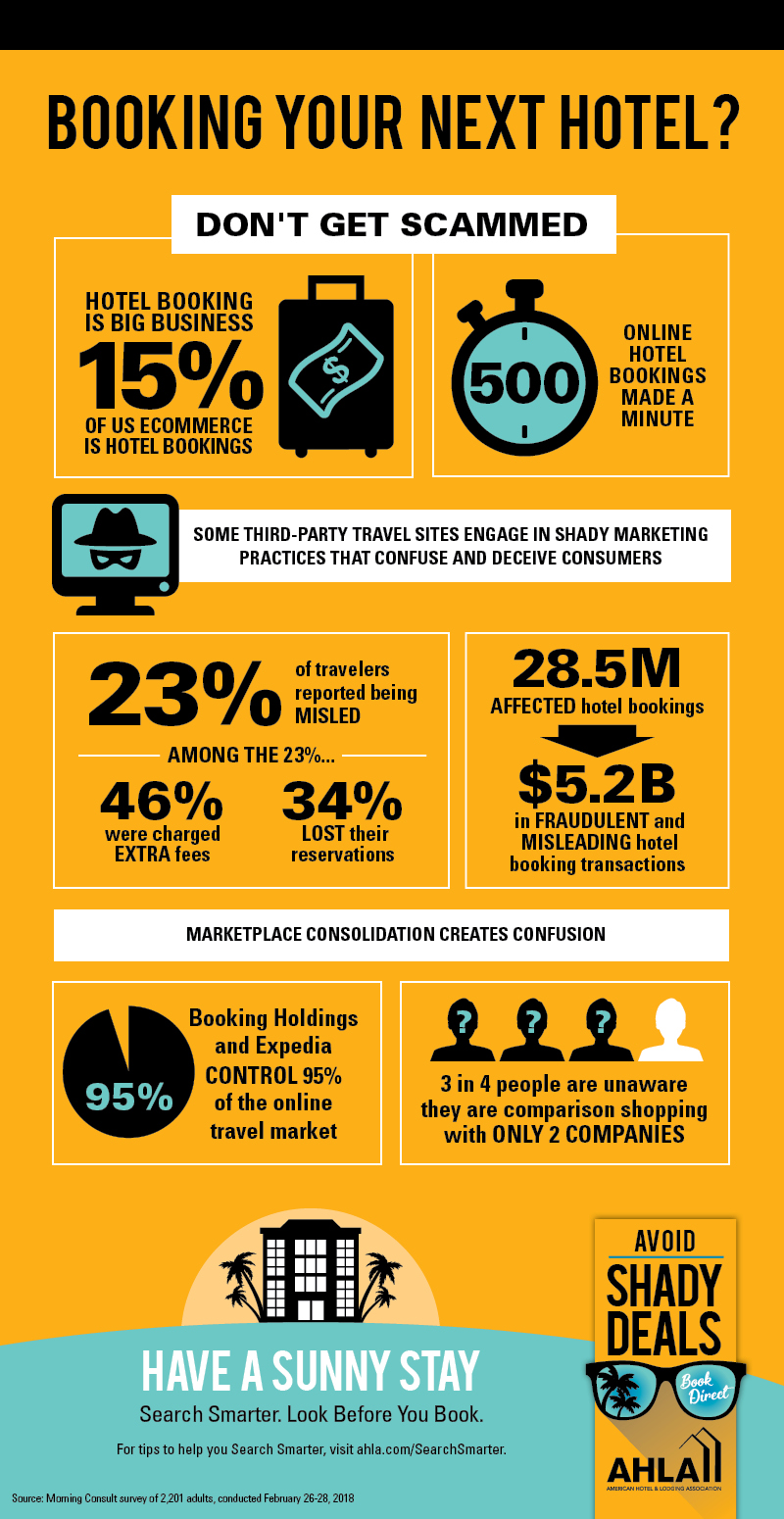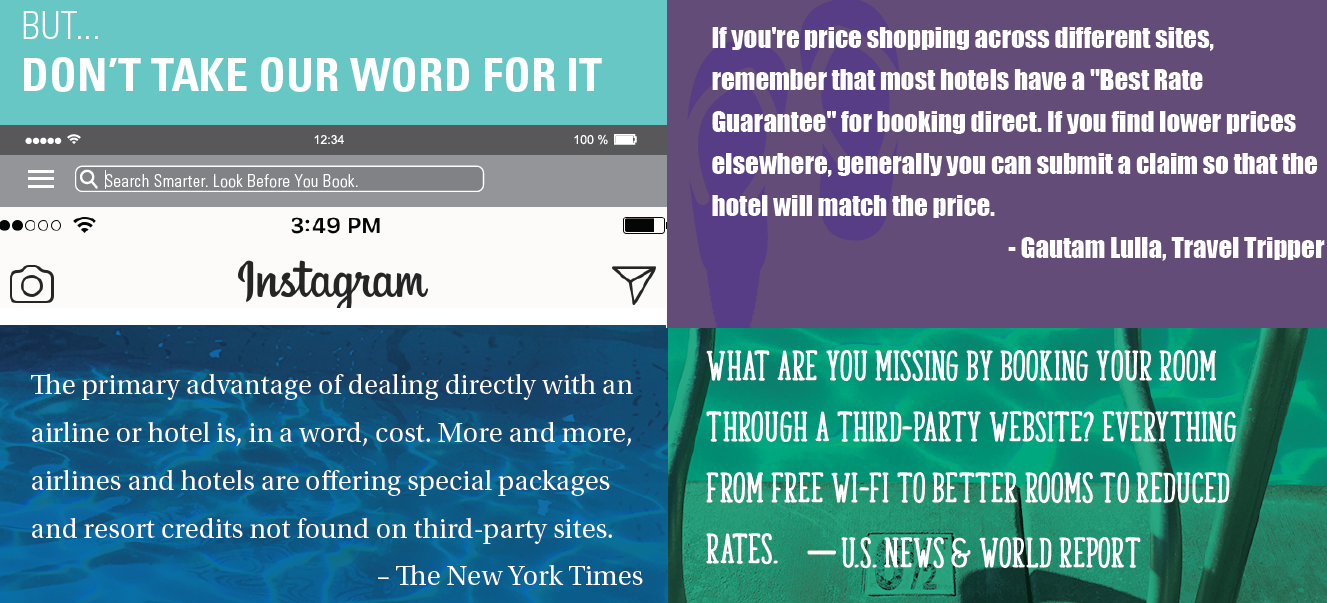 Talking Points
Members only resource offering high level bullet points on the key issues affecting our industry today.
Members Only
Take Action
Make your voice heard! Here you will have the exclusive access to innovative tools that will allow you to take immediate action on important legislative initiatives through concise emails delivered instantly to your Representatives urging their support of lodging-friendly positions.
Take Action