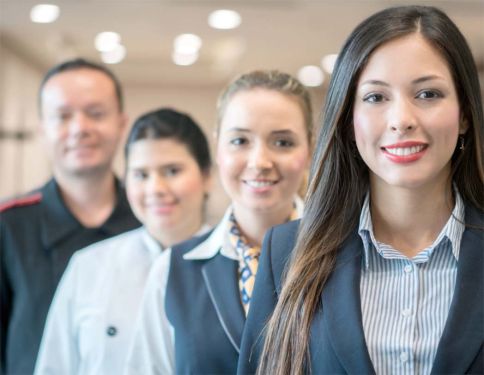 AHLA believes that when it comes to safety and security, there is no compromise.
The hotel industry develops and continually reviews policies that promote a safe environment for our employees and guests. 5-Star Promise is our commitment to provide employee safety devices and adopt enhanced policies, training, and resources around sexual harassment and assault to build on the hotel industry's longstanding efforts to promote employee and guest safety.
The History of 5-Star Promise
In an unprecedented effort in September 2018, AHLA announced the 5-Star Promise, a voluntary commitment by AHLA members to enhance policies, training, and resources, including employee safety devices, that together are aimed and strengthening safety and security for hotel employees and guests. 
Nearly 60 member companies representing an estimated 20,000 hotel properties have made the pledge. As a result, an estimated 1.2 million employees will be better protected on the job. Today, nearly all these hotels have implemented four pillars of the pledge. In addition, more than 5,000 hotels have implemented employee safety devices. The industry has taken additional measures to ensure the safety of our employees and guests in response to COVID-19.
The Five Stars
This comprehensive and unprecedented commitment includes these five important components:
1. Our People Culture
Build on our industry's longstanding commitment to hospitality and a People Culture by continuing to provide industry-wide training and materials on safety and security, and retain expert guidance to work with the industry on diversity and safety matters.
2. Mandatory Policies
Ensure mandatory anti-sexual harassment policies are in place in multiple languages.
3. Training & Education
Provide ongoing training and education for employees on identifying and reporting sexual harassment.
4. Employee Safety Devices
Provide U.S. hotel employees with employee safety devices to help them feel safe on the job.
5. Vital Partnerships
Broaden vital partnerships with wide-ranging national organizations that target sexual violence and assault and trafficking and promote workplace safety.
Learn more about employee safety devices
AHLA is proud to co-release the HTNG Buyer's Guide, which provides guiding questions and implementation best practices for members considering employee safety devices.
Compare employee safety devices offered by AHLA's trusted partners
Each of the sponsors below is providing AHLA members with special offers and discounts on ESDs. Check out our product comparison for the ESDs offered by AT&T Business, Enseo, PwC, React Mobile and ROAR for Good.
"The American Hotel & Lodging Association is an example of how all industries can and must step up to champion healthy, safe, and inclusive workplace cultures for their employees. We commend AHLA for proactively addressing important safety and security is."
- Monika Johnson Hostler, founding Managing Partner of RALIANCE
States nationwide are taking steps to keep hotel employees safe.
There are no federal laws in place to ensure that emergency safety devices (ESDs) are given to employees at hotel properties. In recent years, several states and local governments have enacted legislation to mandate ESDs for hotel employees.
More About Our 5-Star National Partners
Key Issues
AHLA is the singular voice representing every segment of the hotel industry including major chains, independent hotels, management companies, REIT's, bed and breakfasts, industry partners and more.
Interested In supporting the 5-Star Promise?
Email AHLA for support and sponsorship details.
Contact Us