Creating endless career possibilities and strengthening communities all over the country.
The hotel and lodging industry is vibrant, innovative, and full of dynamic opportunities for upward mobility while serving and supporting our most important assets: our people. In every single congressional district in the United States, there is a hotel, supporting and reinvesting in communities around the country while creating jobs and boosting local economies.
The Lodging Industry By The Numbers
Hotels not only grow America's economy, they also invest in local communities, advance industry employees, and serve America's travelers.
55,900+
lodging properties nationwide, including 33,000+ small business properties.
5,300,000
guest rooms across the country, accounting for 1.3 billion guest nights spent annually.
1 in 25 jobs
are provided by the lodging industry, accounting for a total of $660 billion added to the U.S. GDP annually.
Get the facts by State
Get a snapshot of each state and congressional district's lodging industry and the broad economic contribution it makes to that state and its citizens.
Hotels Power America's Economy
The hotel industry pays more than $97 billion in wages and salary income, a 16% increase since 2015.
AHLA Foundation's career development programs have changed more than 40,000 lives since 2017.
Guests spend nearly $550 billion at hotels and surrounding local businesses annually.
Every 100 occupied rooms per night support nearly 250 local jobs, leading to $18.4 million in guest spending.
$186 billion is reinvested in communities nationwide through local, state, and federal taxes.
Please note: these statistics were collected before the start of the COVID-19 pandemic.
100+ years of service
AHLA is the foremost advocate for the U.S. lodging industry so that our members can do their best at what matters most: serving guests, employees and their communities.
Industry Advocacy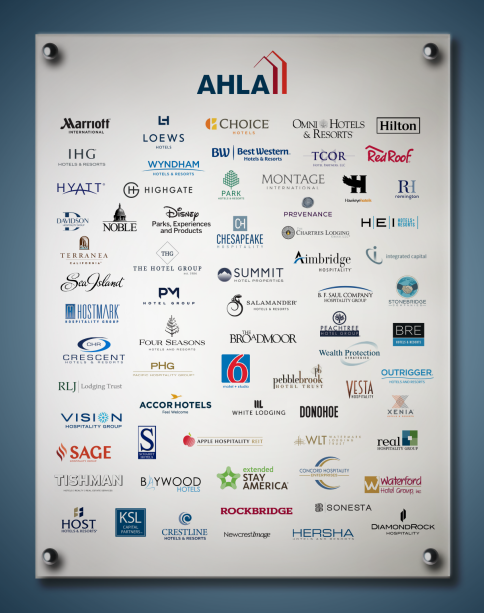 A diverse industry, united by one voice
From major global brands to small inns and bed & breakfasts, AHLA provides a singular voice that brings together the industry's multitude of constituents. Our industry is incredibly diverse and represents everyone from brand CEOs to independent hotel owners, general managers, and hotel staff and is an integral contributor to the American economy.
Key Issues
AHLA is the singular voice representing every segment of the hotel industry including major chains, independent hotels, management companies, REIT's, bed and breakfasts, industry partners and more.