HotelsACT Grassroots Action Center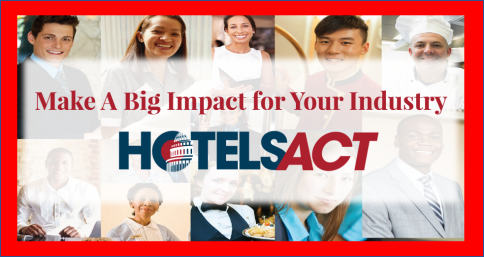 Take action on issues that matter the most
HotelsACT is an affiliate grassroots advocacy organization of the American Hotel & Lodging Association (AHLA) created to enhance hoteliers' ability to influence policy debates by focusing on the economic impact of the lodging industry across the country. HotelsACT enables members to take immediate action on important legislative initiatives through concise emails delivered instantly to your representatives urging their support of lodging-friendly positions.
Register for HotelsACT
It only takes 60 seconds to make a difference for the hotel industry.
HotelsACT FAQs
HotelsACT is open to all individuals who are interested in promoting the common business interests of all U.S. lodging industry, including:
Hotel owners and employees;
Real estate investment trusts (REITs);
Hotel chains, franchisees and hospitality management companies;
Independent hote, motel and bed and breakfast properties;
State and local hotel or hospitality associations;
Industry suppliers and other supporters of the hotel industry. 
HotelsACT membership provides you and your business the ability to easily weigh in on advocacy measures that support the hotel industry. Registration perks include:
Regular updates on issues affecting your hotel's bottom line; 
Exclusive access to innovative advocacy tools;
Political newsletters from DC's top insiders; and
Contact information for your members of Congress. 
Get the facts by State
Get a snapshot of each state and congressional district's lodging industry and the broad economic contribution it makes to that state and its citizens.

HotelPAC
HotelPAC is the American Hotel & Lodging Association's (AHLA) Political Action Committee (PAC). It is a voluntary, bi-partisan PAC formed to help elect federal candidates who support the lodging industry.
Learn More
Key Issues
AHLA is the singular voice representing every segment of the hotel industry including major chains, independent hotels, management companies, REIT's, bed and breakfasts, industry partners and more.