National Hotel Employee Day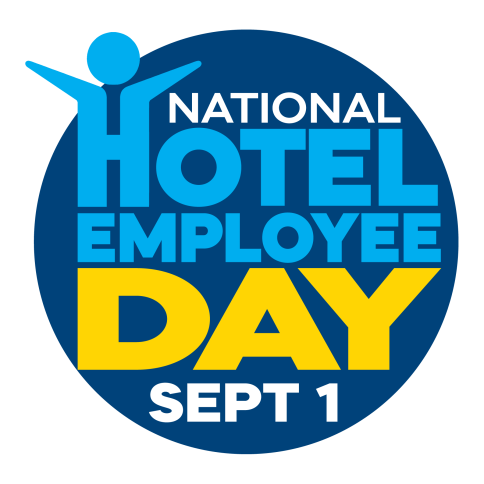 On September 1, we celebrate National Hotel Employee Day and honor the nearly 2 million employees who work in the hotel industry.
Every day in communities across America, hotel employees play a key role in some of Americans' most important life events – from wedding receptions to family reunions and vacations.

Hotel employees keep guests safe, give back to their communities, and are critical to keeping our nation's nearly $2 trillion travel and tourism industry running smoothly.

The hotel industry is a vibrant, innovative, and dynamic business.

Before the pandemic, hotels supported 1 in 25 American jobs and generated $186 billion in federal, state, and local taxes each year.
The success of a hotel is dependent upon its employees, who typically work in one or more of nine major areas:
Lobby and guest services
Food and beverage
Recreation and events
Rooms
Security
Engineering and maintenance
Sales and marketing
Accounting
Human Resources
In all, the hotel industry offers more than 200 different career paths and many opportunities for upward mobility, with 80% of entry-level workers eligible for a promotion in less than one year and 50% of hotel general managers having started in an entry-level position.
How to observe #HotelEmployeeDay
Post on social media using the #HotelEmployeeDay hashtag
Thank a hotel employee in person
Leave a good review about your hotel stay online
Create a bucket list of must-stay hotels and visit those places
Tag #HotelEmployeeDay when you share photos of your hotel stay on social media
About National Hotel Employee Day
In 2022, the American Hotel & Lodging Association (AHLA) established National Hotel Employee Day in the National Day Calendar. It will be observed each year on September 1. The day is meant to thank hotel employees for their hard work and dedication and recognize the integral role they play in our nation's travel, tourism, and hotel industries.