OSHA Vaccine Mandate ETS: What This Means for Hoteliers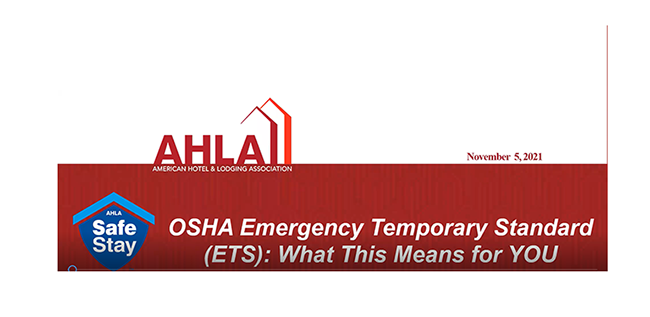 With the release of OSHA's COVID-19 Vaccination and Testing Emergency Temporary Standard (ETS), AHLA hosted a webinar featuring experts in public policy and employment law to assist hoteliers in navigating these new workplace requirements. The panelists answered questions including:

• How does OSHA define "100 employees"?
• Do we need to provide paid time off for vaccinations?
• How does OSHA define 'fully vaccinated'?
• Does the Federal Contractor Executive Order on employee vaccine mandates apply to me?

Moderator: Chip Rogers, President & CEO, AHLA

Panelists
• Josh Ulman, Founder & Managing Partner of Ulman Public Policy
• Tasos C. Paindiris, Principal, Workplace Law, Jackson Lewis
• Kristina Brooks, Counsel, Workplace Safety & Health Practice, Jackson Lewis