No Room for Trafficking Expands Impact with Latest $500,000 Contribution to The Survivor Fund from Wyndham Hotels & Resorts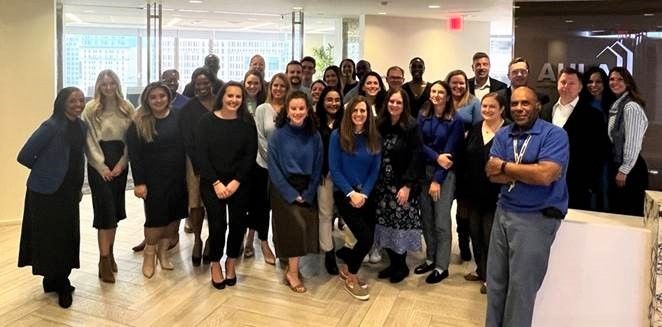 WASHINGTON (Jan. 11, 2023) – AHLA and The AHLA Foundation are once again recognizing National Human Trafficking Prevention month by participating in the U.S. Department of Homeland Security's largest Blue Campaign initiative - #WearBlueDay, which is celebrated today, National Human Trafficking Awareness Day. This kicks off a series of events and thought leadership activities in January to showcase the No Room for Trafficking (NRFT) program, a national effort that unites the hotel and lodging industries around collective strategies and actions to help eradicate human trafficking. 
 
Engagement opportunities include an event in partnership with It's a Penalty in Phoenix prior to Super Bowl LVII, a live Twitter chat in partnership with the National Center for Missing and Exploited Children (NCMEC), an event in partnership with Safe House Project at the U.S. Capitol, as well as a virtual fireside chat with DHS Secretary Alejandro Mayorkas on January 30th to close out the month.
 
Additionally, the AHLA Foundation marked a milestone in 2022 by announcing expanded efforts to support survivors through the industry's first-ever Survivor Fund. Wyndham, the world's largest hotel franchisor, is the latest contributor to these efforts with their commitment of $500,000 to the Survivor Fund. To date, the Fund has raised more than $2 million from hotel companies, including the Hilton Global Foundation, Hyatt Hotels Foundation, Extended Stay America and G6 Hospitality. The Fund will award grants to community-based organizations that help prevent revictimization by empowering and equipping survivors with resources to support them on their path forward, from emergency housing to career development, and other critical needs.
 
"As an industry, there is no greater moral cause than combatting human trafficking, and January serves as a time to bring awareness to this fight and support survivors.  From member resources, to training events to awareness-raising campaigns, we are proud to drive these critical efforts forward into 2023," said Chip Rogers, president and CEO of AHLA. "Beyond growing the impact of the Survivor Fund though increased support from hotel companies across the country, we will continue to elevate the issue, educate industry employees and employers, and empower survivors. While there is still much more to be done, together we are making critical strides in the fight to end trafficking."
  
Through NRFT, the industry is committed to supporting and empowering survivors while continuing to advance training and education to raise awareness about and help stop human trafficking. To date, over 800,000 hotel employees nationwide have been trained through the industry's free human trafficking awareness training hosted in partnership with ECPAT-USA.
 
Learn more about NRFT here.
About AHLA Foundation
The AHLA Foundation, the charitable giving arm of the American Hotel & Lodging Association, is dedicated to helping people build careers, improve their lives and strengthen the lodging industry. We provide impactful solutions that drive the recruitment, retention and development of individuals for life-long careers in hospitality. To transform the industry and change lives, we connect the unemployed and underemployed with new career pathways and provide educational programs and resources to support their professional advancement.  The Foundation is funded by grants and charitable contributions from generous individuals and organizations who want to support individuals seeking opportunities to thrive in the hotel and lodging industry. Learn more at www.ahlafoundation.org.