RLJ Lodging Trust's Leslie D. Hale Named Chair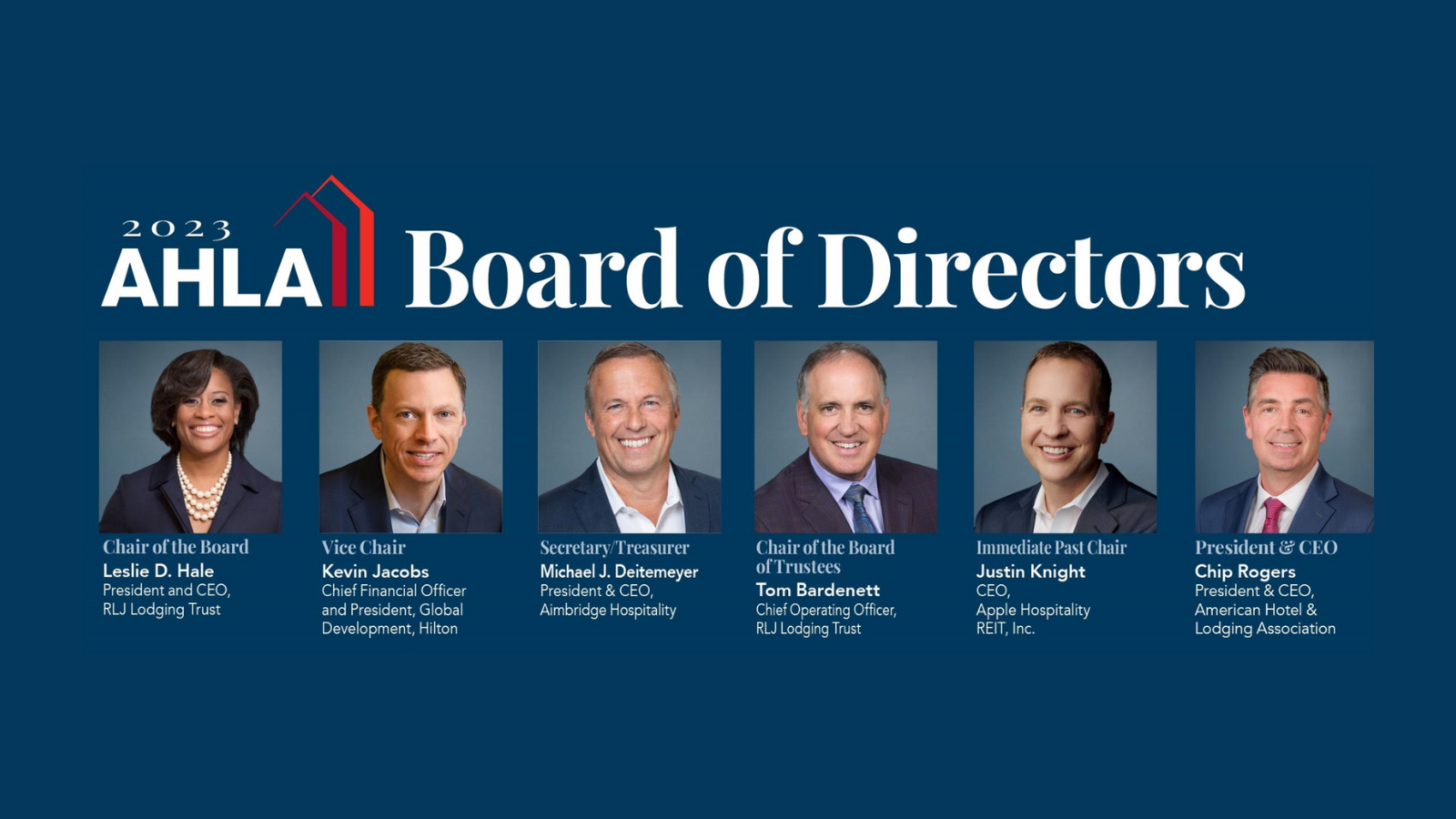 WASHINGTON (Jan. 27, 2023) – The American Hotel & Lodging Association (AHLA) today announced its 2023 Officers, Board of Directors and Executive Committee, which include top leaders representing all segments of the hospitality industry.
 
RLJ Lodging Trust President & CEO Leslie D. Hale was named chair of the board; Hilton Chief Financial Officer and President, Global Development Kevin Jacobs was named vice chair; Aimbridge Hospitality President & CEO Michael J. Deitemeyer joins as secretary/treasurer; RLJ Lodging Trust Chief Operating Officer Tom Bardenett will remain chair of the AHLA Foundation Board of Trustees.
 
Hale succeeds Apple Hospitality REIT, Inc., CEO Justin Knight, who has served as AHLA board chair for the past year and becomes immediate past chair.
 
"AHLA's executive committee and board have always attracted hospitality's best and brightest, and I am humbled and honored to be able to lead this amazing group in 2023," said AHLA Board Chair Leslie D. Hale. "I am excited to build upon AHLA's strong legacy of success on behalf of our industry and eager to work with my fellow board members to help AHLA accomplish the many important objectives in its strategic plan, including growing the hospitality workforce, achieving advocacy wins and highlighting hotels' leadership on sustainability and diversity."
 
"Each year, AHLA brings together a cross section of the top minds in hospitality to serve on its executive committee and board, and this year is no exception," said AHLA President & CEO Chip Rogers. "This esteemed group of leaders will help AHLA reach new heights in 2023, as we continue delivering unparalleled ROI for members by racking up policy victories at all levels of government and providing top-notch member services and communications support."
 
AHLA has played an increasingly critical role on behalf of the hotel industry, especially since the COVID-19 pandemic. In the last two years, AHLA has grown from 44 to nearly 70 employees, as the organization continues to serve as the singular voice of America's hotels and remains deeply engaged in policy issues affecting hoteliers at all levels of government. 
AHLA is the largest hotel association in America, representing more than 30,000 members from all segments of the industry nationwide – including iconic global brands, 80% of all franchised hotels and the 16 largest hotel companies in the U.S. In addition to hoteliers, AHLA membership includes partner state associations, industry vendors and suppliers, hospitality students and those who teach and mentor them. 
 
The AHLA Board of Directors represents leaders from all sectors of the lodging industry, including brands, owners and real estate investment trusts (REITs), management companies, independent hotels and state associations. Click here to view the 2023 AHLA Board of Directors. 
 
New members of the board appointed to two-year terms in 2023 include: 
Julie Arrowsmith, President and Interim CEO, G6 Hospitality
Maribeth Bisienere, Senior Vice President, The Walt Disney Company
Carol Dover, President & CEO, Florida Restaurant & Lodging Association
Gregg Forde, President & COO, Island Hospitality Management
Kristie Goshow, Chief Commercial Officer, KSL Resorts
Naveen Kakarla, President and CEO, Hersha Hospitality Management
Pete Sams, Chief Operating Officer, Davidson Hospitality Group
Walt Sheffler, SVP - Avendra Hospitality and Europe, Avendra
Lindsey Ueberroth, CEO, Preferred Hotels & Resorts
Derrick Yee, Vice President of Asset Management, Placemakr
 
Additionally, AHLA welcomed four new members to its Executive Committee, which serves as the association's core governance body and guides its policy agenda. Click here to view the 2023 AHLA Executive Committee.
 
New representatives on the Executive Committee include:
Thom Geshay, CEO & President, Davidson Hospitality Group 
Mark S. Hoplamazian, President & CEO, Hyatt Hotels Corporation
Patrick Pacious, President and Chief Executive Officer, Choice Hotels International, Inc.
Ben Seidel, President, Real Hospitality Group