AHLA CELEBRATES NATIONAL APPRENTICESHIP WEEK BY LAUNCHING FIRST-EVER STATEWIDE LODGING APPRENTICESHIP PROGRAM AND GIVING A $50,000 GRANT TO COMMUNITY-BASED ORGANIZATIONS IN BALTIMORE TO OPEN CAREER PATHWAYS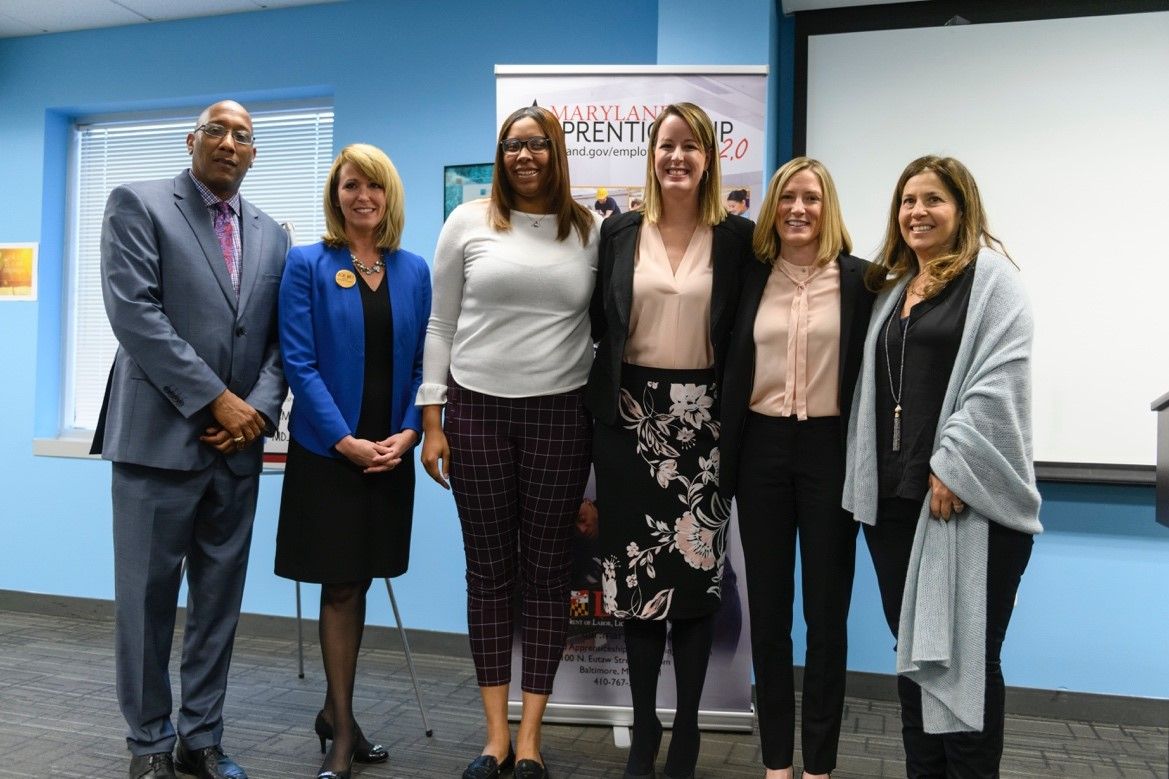 Baltimore, MD – November 16, 2017 –  The American Hotel & Lodging Association (AHLA) Senior Vice President of Career Development Shelly Weir joined Maryland Secretary of Labor Kelly Schulz, Grads of Life Principal Elyse Rosenblum and local hotel-industry apprentice Wynter Sharps to announce a commitment to provide $50,000 in grants to community-based organizations to recruit and develop "Opportunity Youth" in Baltimore. 
 
Currently, six million young people – "Opportunity Youth" – are between the ages of 16 to 24, and out of school and out of work.  Connecting them to potential employers is an important step in securing their future. The hospitality industry has some 600,000 job openings and this grant commitment will help fill a critical labor shortage in the long-term by joining with community-based organizations to attract youth for careers in the hospitality industry in Baltimore.
Additionally, at the event Secretary of Labor Schulz provided AHLA with a proclamation in honor of National Apprenticeship Week from Maryland Governor Larry Hogan.  Like the hotel industry, Governor Hogan's administration is committed to using apprenticeships to foster job and career opportunities.  In creating the Maryland Apprenticeship Innovation Fund, seed money has been provided to businesses and programs committed to creating apprenticeship opportunities to meet workforce needs.  In partnership with the National Restaurant Association Educational Foundation, AHLA has made a national commitment to the U.S. Department of Labor to train some 2,500 apprentices in the hospitality industry over the next five years.  To date, AHLA has not just met, but exceeded that goal by more than 175 percent, securing more than 400 commitments from AHLA's hotel membership.
The event also served as an enrollment ceremony for Wynter Sharps, who will begin training to become a manager through the state-wide apprenticeship program under her former general manager and the incoming MH&LA Chairman Chuck Chandler. 
The event, in conjunction with the American Hotel & Lodging Educational Foundation (AHLEF), is part of AHLA's Empowering Youth Project, an initiative of the industry's Dreams Happen Here campaign, a national awareness effort to showcase career advancement opportunities, community commitment, and economic importance of hotel and lodging businesses to every city and state across America. 
"Providing opportunities for youth is important to ensuring that employers have a pipeline of talent for the future," said Maryland Department of Labor Secretary Kelly M. Schulz. "Partnerships like the one formed between AHLA, Grads for Life, and these key Baltimore community-based organizations are yet another example of how we are changing Maryland for the better."
 
"The hotel industry supports more than eight million jobs across the United States and this grant in Baltimore is another step in our continued commitment to creating opportunity and economic mobility by investing in our workforce," said Shelly Weir, AHLA Senior Vice President of Career Development.  "We commend Secretary Schulz for taking a leadership role in prioritizing apprenticeships, which are critical to career development.  By partnering with the Maryland's Labor Department and Grads of Life, we are taking a meaningful step to close that jobs gap and provide our nation's youth with the skills to launch long, prosperous careers in the hotel industry." 
 
"At Grads of Life, we work each day to match employers in need of talent with innovative solutions that also provide Opportunity Youth with the skills and access necessary for meaningful career pathways," Grads of Life Principal Elyse Rosenblum said.  "AHLA's grant commitments and the collaboration with the Maryland Department of Labor, Licensing and Regulation will help advance our mission to close the opportunity divide and aid countless young people looking to gain stable employment in the hotel industry."   
 
###  
 
 
About Grads of Life
Grads of Life is a national initiative that catalyzes market demand for Opportunity Youth (ages 16-24) by transforming employer perceptions and hiring practices. Grads of Life places an innovative focus on the demand side of the talent marketplace, harnessing the power of the private sector to create pathways to employment for Opportunity Youth nationwide.