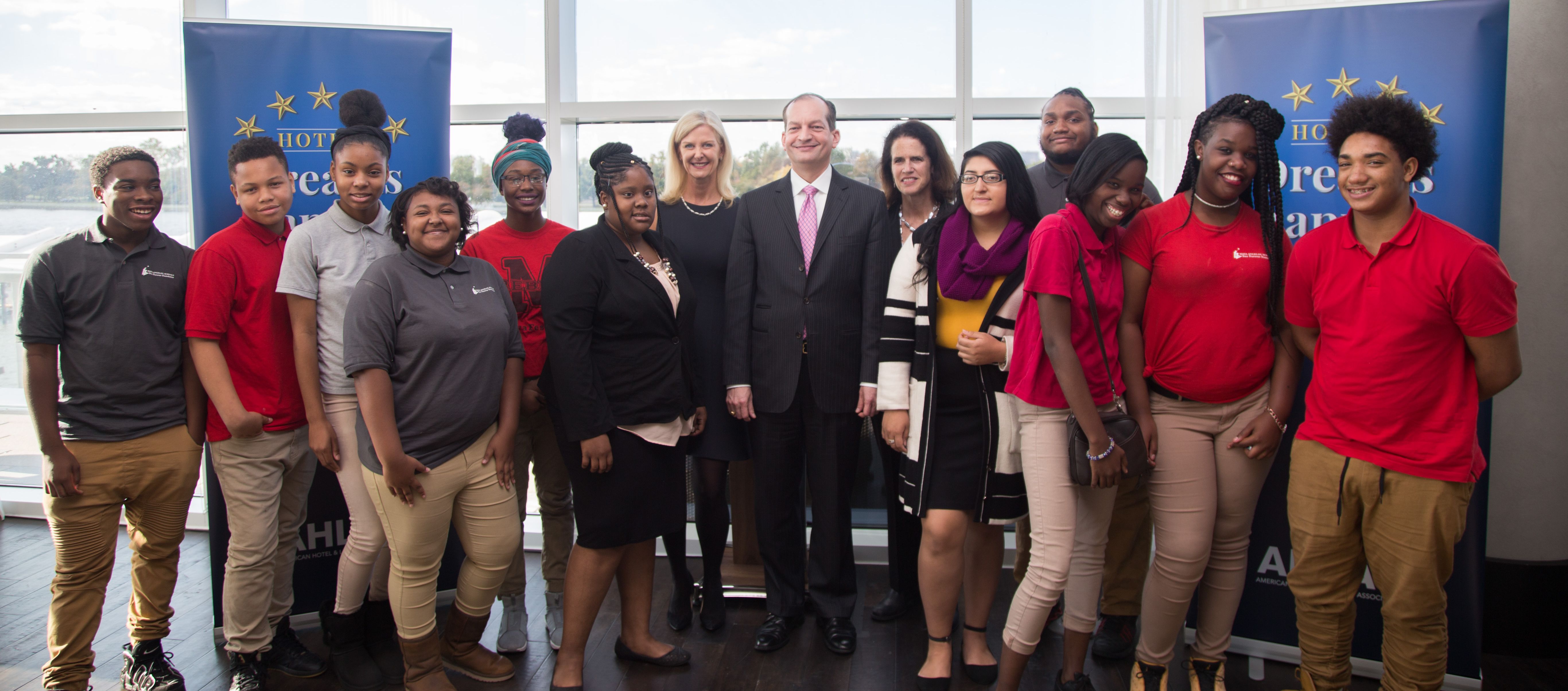 Washington, D.C. – October 30, 2017 –  Katherine Lugar, President and Chief Executive Officer (CEO) of the American Hotel & Lodging Association (AHLA) today presented a national non-profit career development organization, Grads of Life, with a commitment to provide $500,000 in grants to community-based organizations to recruit and develop "Opportunity Youth" in high-demand markets, such as Washington D.C., Los Angeles, Chicago and Baltimore.  U.S. Secretary of Labor Alexander Acosta joined Lugar and Grads of Life Principal Shawn Jacqueline Bohen to announce this investment for Opportunity Youth.
 
Currently, six million young people – "Opportunity Youth" -- are between the ages of 16 to 24, and out of school and out of work.  Connecting them to potential employers is an important step in securing their future. The hospitality industry has some 600,000 job openings and this grant commitment will help fill a critical labor shortage in the long-term by joining with community-based organizations to attract youth for careers in the hospitality industry. This grant is being provided to Grads of Life, a nationally recognized leader in working with employers to bring Opportunity Youth into the workplace. This funding will allow us to help reach some 1,000 youth over two years.
 
On the heels of the Apprenticeship Task Force announcement, the U.S. Department of Labor (DOL) is working closely with the hotel industry – which has a proven track record in creating career pathways for employees -- to help close the skills gap and provide our nation's youth with meaningful and impactful careers.  
 
The event, in conjunction with the American Hotel & Lodging Educational Foundation (AHLEF), is part of AHLA's Empowering Youth Project, an initiative of the industry's Dreams Happen Here campaign, a national awareness effort to showcase career advancement opportunities, community commitment, and economic importance of hotel and lodging businesses to every city and state across America. 
 
Present at the announcement were several students enrolled in AHLA's pre-apprenticeship program with the DOL.  After announcing the grant, Secretary Acosta and Lugar met with the staff members of the Canopy by Hilton Washington, D.C. hotel to hear their stories and learn about their roles. 
 
"This Administration is committed to unlocking more opportunities for Americans to get the family-sustaining jobs they deserve," said Secretary Acosta. "I thank the American Hotel and Lodging Association and Grads of Life for working together to bring young people into the hospitality industry. We need more programs like these so that young people can have avenues for advancement, including apprenticeships."
 
"The hotel industry supports more than eight million jobs in the United States, and this grant is another step in our continued commitment to creating opportunity and economic mobility by investing in our workforce," said Katherine Lugar, President and CEO of AHLA. "We commend Secretary Acosta for taking a leadership role in prioritizing apprenticeships which are critical to career development. By partnering with the Labor Department and Grads of Life, we are taking a meaningful step to close that jobs gap and provide our nation's youth with the skills to launch long, prosperous careers in the hotel industry." 
 
"At Grads of Life, we work each day to match employers in need of talent with innovative solutions that also provide Opportunity Youth with the skills and access necessary for meaningful career pathways," Grads of Life Principal Elyse Rosenblum said. "AHLA's grant commitments and partnership with the Department of Labor will help advance our mission to close the Opportunity Divide and aid countless young people looking to gain stable employment in the hotel industry."  
 
###  
 
About Grads of Life
Grads of Life is a national initiative that catalyzes market demand for Opportunity Youth (ages 16-24) by transforming employer perceptions and hiring practices. Grads of Life places an innovative focus on the demand side of the talent marketplace, harnessing the power of the private sector to create pathways to employment for Opportunity Youth nationwide.