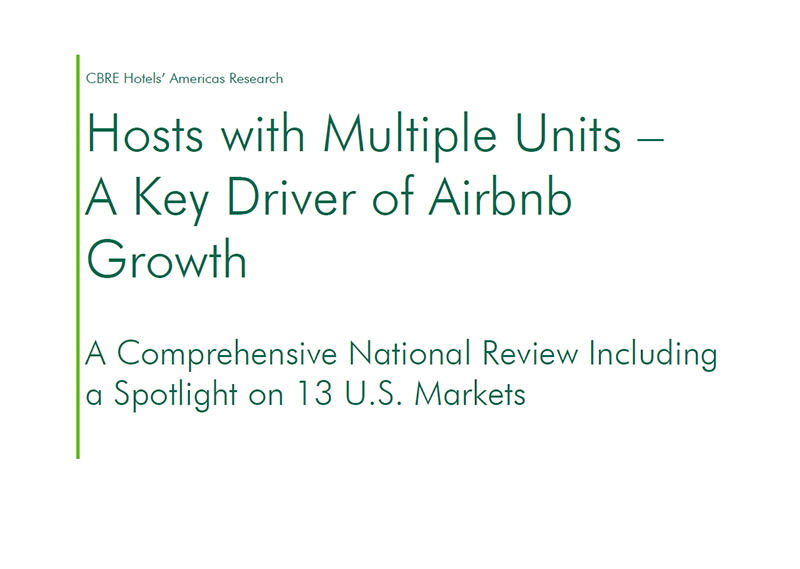 Short-term rental companies like Airbnb – by far the dominant player among its peers – claim they simply help regular folks occasionally rent out a spare room in their home to make some extra money. But in reality, a growing body of research, in study after study, reveals a significant – and rapidly growing – portion of Airbnb's revenue in major U.S. cities is driven by commercial operators who rent out more than one residential property short-term visitors, essentially operating just like a hotel. Closing this 'illegal hotel loophole" is the only way for state and local governments to protect communities and ensure a fair and competitive travel marketplace.  
Key Findings
A new analysis released by CBRE Hotels' Americas Research, a leading real estate research company, released Hosts with Multiple Units – A Key Driver of Airbnb Growth, which adds to the overwhelming weight of evidence showing that short-term rental companies – and specifically Airbnb – are providing a platform for commercial operators to run illegitimate, unregulated and often illegal hotels in communities across the country.
True home-sharing, where the owner is present during the guest's stay, accounts for less than 20% of Airbnb's business. 81% of Airbnb's revenue nationwide – $4.6 billion – comes from whole-unit rentals where the owner is not present.
That's not home sharing, that's a business.
Some of the data revealed in the study showed:  
In the U.S., hosts renting out two or more entire-home units generated nearly $2 billion in revenue in 2016. In the 13 markets highlighted, revenue reached $700 million.
81% of Airbnb's U.S. revenue – $4.6 billion – comes from whole-unit rentals (those rentals where the owner is not present during the time of the rental), rising from 78% in the prior year. 
Each of the 13 cities studied saw an increase in the total number of listings by multi-unit hosts. In Nashville, Seattle, Oahu, and New Orleans, the growth of the number of units managed by multi-unit operators more than doubled -- and Nashville saw an increase of more than 160%.
The markets with the highest share of total revenue derived from multi-unit hosts are Miami (57.9%), Oahu (53.5%), and New Orleans (42.3%).
In almost every market examined in the report, the percentage of revenue from multi-unit hosts increased from 2015 to 2016, with the two notable exceptions being New York City and San Francisco, where policymakers have enacted regulations to limit abuse by commercial operators and ensure short-term rentals represent true home sharing.
Revenue growth for entire-home properties increased by an average of 76% in the 13 markets studied. Nashville (+283%) was the fastest growing market followed by Oahu (+187%) and New Orleans (+144%).