PLEDGES TO PARTNER WITH MAYORS ON ECONOMIC DEVELOPMENT, WORKFORCE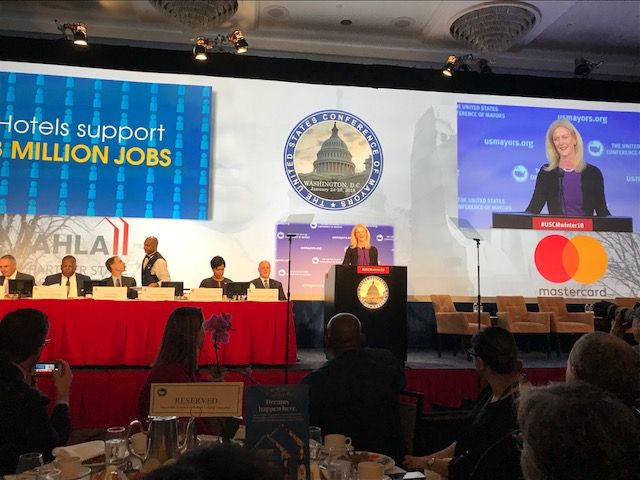 WASHINGTON, D.C. (January 24, 2018) – American Hotel & Lodging Association (AHLA) president and CEO Katherine Lugar today pledged to partner with U.S. mayors to strengthen communities, build a modern, dynamic workforce, and give travelers world-class experiences in their cities.
Speaking at the U.S. Conference of Mayors' (USCM) annual winter meeting in Washington, D.C., Lugar highlighted the hotel industry's contributions to local economies and workforce development.
"From small and independent hotels to the global hotel brands to real estate owners, our industry is a major economic driver in communities across the United States. And we do that in partnership with each of you. Every time a new hotel is built in your cities, your community reaps the benefits of spending and jobs that go well beyond our properties," said Lugar.
Hotels support 8 million jobs and generate $1.1 trillion in economic activity and $170 billion in tax revenue.
Lugar underscored the hotel industry's commitment to its workforce, including apprenticeship programs that train and groom the industry's future leaders.
"Apprenticeships have been around for a long time, but they are new to the world of hospitality. It's important for people to know that a four-year college degree is not the only path to upward mobility and management-track jobs. And for hotels, it provides a wonderful program to build and develop the supply of talent for the future," said Lugar.
AHLA and its foundation, the America Hotel & Lodging Educational Foundation (AHLEF), recently launched a pilot program with Grads of Life, a nationally recognized nonprofit focused on "opportunity youth," the 6 million young people ages 16-24 who are out of school and out of work. To start, AHLEF is providing a number of significant grants in high-demand markets to cover training and directly connect opportunity youth to hotel jobs that offer a path forward.
"The American dream is alive and well in the hotel industry," said Lugar. "We are committed to advancing our employees and partnering with you to make our cities better and more vibrant."