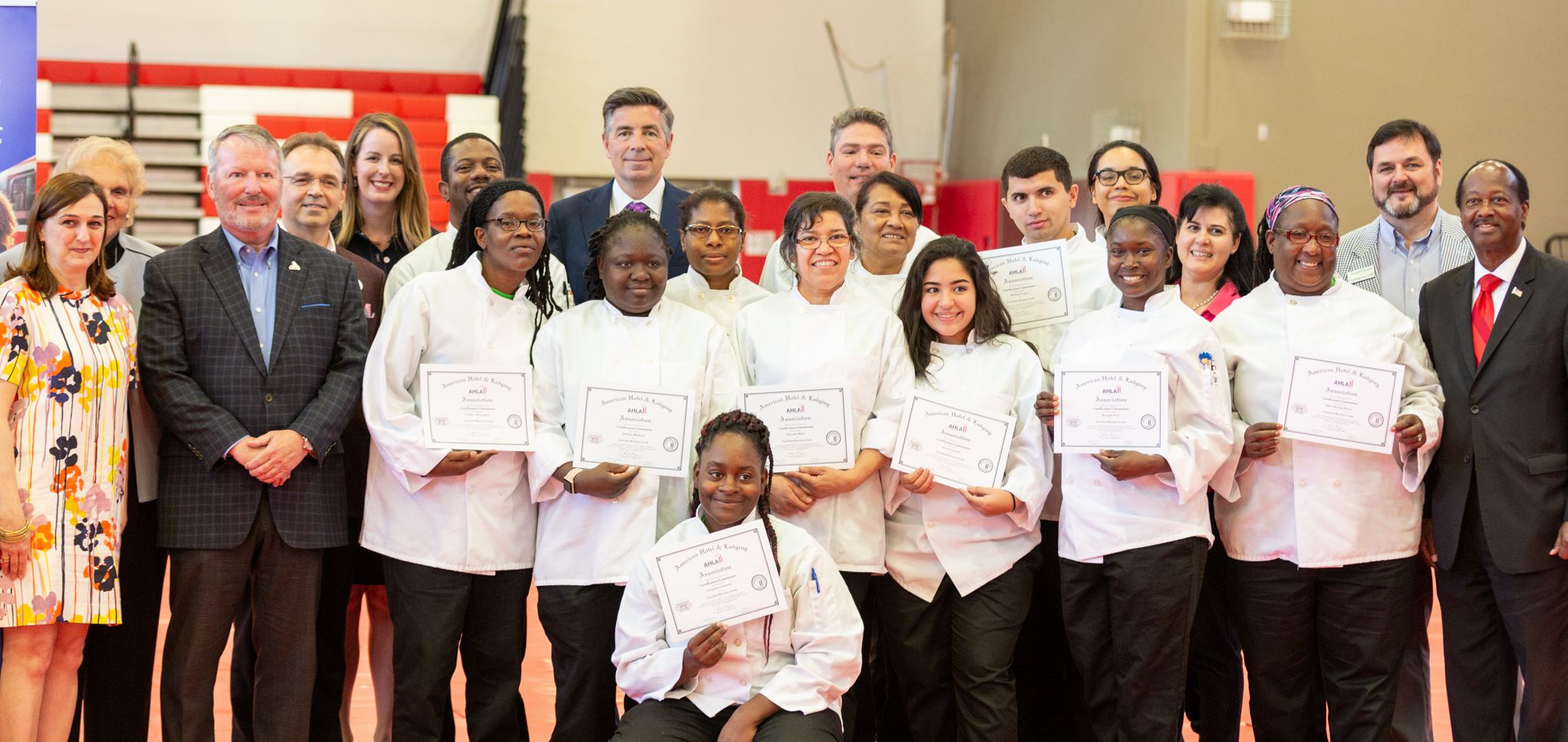 ORLANDO, FL (March 28, 2019) – Today, Orlando Mayor Buddy Dyer joined the AHLA Foundation, the foundation arm of the American Hotel & Lodging Association (AHLA), to announce a $75,000 grant to help Orlando community-based organizations – Second Harvest and After-School All-Stars – recruit and train individuals to join the growing and dynamic hotel industry.
In Orlando, more than 190,000 young adults are looking for employment. Yet, the Orlando hotel industry has more than 7,600 job openings annually and nearly 400 positions open currently. Grant funds will connect youth to employers in the hospitality industry and provide training to help them succeed.
As a result of the AHLA Foundation grant, After-School All-Stars will be able to expand by at least two additional high schools in the Orlando area its after school training program, which will focus on developing job readiness skills to train youth for jobs in the hospitality industry. Additionally, Second Harvest will host culinary focused trainings for job seekers.
Mayor Dyer and leaders from AHLA Foundation and AHLA were joined for today's announcement by representatives of the Florida Restaurant & Lodging Association, Grads of Life, After-School All-Stars, Second Harvest and local hoteliers.
"The hotel industry supports more than eight million jobs across the United States and this Orlando grant is another step in our continued commitment to creating opportunity and economic mobility by investing in our workforce," said AHLA President & CEO Chip Rogers. "By partnering with Mayor Dyer and local community-based organizations, we are taking a meaningful step to close the jobs gap and provide individuals with the skills to launch long, prosperous careers in the hotel industry."
The event is part of AHLA's Hospitality is Working campaign, a national awareness effort to showcase career advancement opportunities, community commitment, and the economic importance of hotel and lodging businesses to every city and state across America.
"As one of the busiest travel destinations in the country, Orlando has a thriving hotel and lodging industry, and many more properties are being built to accommodate visitor demand," said Mayor Buddy Dyer. "I am proud to partner with AHLA, AHLEF, FRLA, and other hoteliers committed to creating jobs and investing in the lives of local individuals by providing the tools and resources needed to succeed."
"One of the greatest challenges facing the hotel industry today is hiring associates to fill critical service positions," said AHLA Foundation President Rosanna Maietta. "AHLA Foundation is committed to developing innovative, proactive programs in Orlando and across the country that invest in our workforce, from creative recruitment and retention strategies to launching innovative industry-wide programs to upskill our workforce and expand our talent pipeline."
"The demand for exceptional talent in our industry is greater than ever and we know we must continue working hard to meet the anticipated growth," said Florida Restaurant and Lodging Association President & CEO Carol Dover. "Our Florida hotels are proud to partner with community-based organizations, such as After-School All-Stars and Second Harvest, to develop and train the next generation of hospitality leaders. We believe that this grant contribution will make a big difference in the lives of many local individuals who are ready to join this industry."
About AHLA 
Serving the hospitality industry for more than a century, the American Hotel & Lodging Association (AHLA) is the largest national association solely representing all segments of the 8 million jobs the U.S. lodging industry supports, including brands, hotel owners, REITs, chains, franchisees, management companies, independent properties, bed and breakfasts, state hotel associations and industry suppliers. Headquartered in Washington, D.C., AHLA proudly represents a dynamic hotel industry of more than 54,000 properties that supports $1.1 trillion in U.S. sales and generates nearly $170 billion in taxes to local, state and federal governments.
About FRLA
The Florida Restaurant and Lodging Association (FRLA) is Florida's premier non-profit hospitality industry trade association. Founded in 1946 as the Florida Restaurant Association, FRLA merged with the Florida Hotel and Motel Association in 2006. FRLA's more than 10,000 members include independent hoteliers and restaurateurs, household name franchises, theme parks and suppliers. The association's mission is to protect, educate and promote Florida's $111.7 billion hospitality industry which represents 1.4 million employees. ###