Partner Spotlight - Towne Park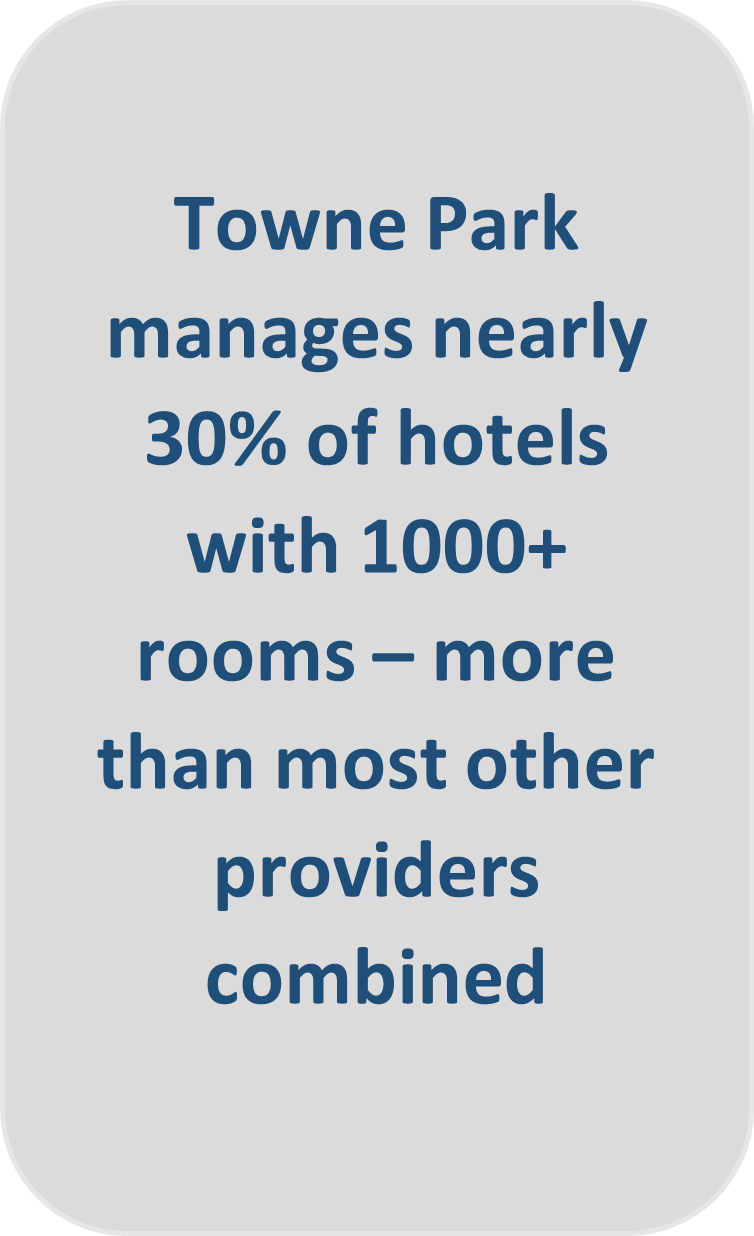 Towne Park has been the national leader in hospitality solutions for 35+ years by providing exceptional experiences from arrival through departure for every hotel guest and visitor we serve. We are committed to making the guest experience a priority, providing seamless and memorable interactions that create smiles. For more than 35 years, Towne Park has been a trusted partner and advisor to over 500 hotels nationwide, including more 4-star and 5-star luxury destinations than any other organization.
As a tech enabled, multi-service hospitality company, Towne Park is the only major parking company with a comprehensive suite of parking and mobility solutions focused exclusively on the hospitality industry. We offer unrivaled expertise in managing complex operations, luxury hotels and resorts, and we're trusted by the hospitality industry's most recognizable names. From large conference hotels to downtown properties with constrained parking capacity, we've managed it all and have proven strategies that ensure the arrival through departure experience always feels seamless and creates a memorable impression, enhancing our clients' brands.
When you partner with Towne Park you can be confident that we will deliver the most efficient, cost-effective solution while driving new revenue for you, resulting in enhanced financial performance and guest satisfaction.
Enhancing Your Brand
Hospitality All-Stars: The Best Team for Your Location
Our local, in-market talent acquisition teams source associates passionate about service excellence and who are hospitality experts. With our comprehensive 90-day onboarding, ongoing safety and service excellence training and certification programs, you can rest assured your Towne Park team is the best for your property.
Exceptional Service, For You and Your Guests
With the best service delivered by expert local teams and supported by national resources and solutions, we are committed to your goals. Service excellence and safety practices are always at the forefront—with continuous training, evaluations, and safety leaders in every district. The result is consistently excellent service—every day and with everyone.
Solutions That Enhance the Guest Experience, Deliver Efficiency and Generate Revenue
Our data and analytic capabilities help us understand your market, what your guests seek, and how we can provide innovative solutions that keep your guests coming back. We pair these insights with innovation and the right technology to deliver a custom solution that drives guest experience, efficiency, and revenue. Our service model typically generates a 10-30% increase in revenue for clients.
Comprehensive Hospitality Services: Experts in Parking and Hospitality Service Excellence
With a single provider managing your front-of-house operations, you can achieve a seamless guest experience efficiently, with streamlined staffing and payroll solutions. Our cross-trained associates create synergy and can shift roles at a moment's notice, making it easy to adjust staffing during periods of high demand.
Make Your Guests Feel Like They've Arrived
Not only do we provide a full suite of parking solutions, but our hospitality support solutions enable us to deliver a fully integrated guest arrival through departure experience. When valet and parking services are integrated with your bell and door services, guests experience a seamless arrival and departure by the One Towne Park Team.
Our service-oriented Hospitality Ambassadors are specially trained to support complementary roles, creating synergies and efficiencies among hotel departments, effectively managing costs while providing a continuity of service for you and your guests. This unified approach not only enhances the guest experience through continuity of service but can create greater efficiencies and improvements in operational logistics by leveraging a single team. In addition, with these services you will have the greatest staffing flexibility to manage labor needs most efficiently based on demand with our ability to flex our teams to support multiple services.
Valet Parking
Metric-driven service that leverages technology to optimize performance and guest satisfaction.
Self-Parking
Capacity planning, ecommerce and automated solutions that drive revenue and efficiency.
Door Service
Cross-trained associates provide a streamlined team and consistent welcome experience.
Bell Service
Polished associates trained to the rigorous AAA service standards.
Concierge Service
Signature Elite Lobby Ambassador training empowers attentive, brand defining guest service.
Shuttle Service
DOT-compliant, safety certified service from the largest shuttle operator in North America.
Event Services
Scale up staff effortlessly with an in-market network of top-notch service professionals.