WASHINGTON—Trade groups representing thousands of businesses and millions of jobs on Tuesday announced the official launch of the Visit U.S. Coalition, whose aim is to partner with the Trump administration to reverse the decline in U.S. competitiveness for international travel dollars.
The dip in U.S. market share is a hindrance to the president's economic goals, which the Visit U.S. coalition intends to help correct. Research prepared for Visit U.S. by the U.S. Travel Association shows that while global travel volume increased 7.9 percent from 2015 to 2017, the U.S. slice of that growing pie fell from 13.6 percent to 11.9 percent in the same period—the first drop after more than a decade of consistent growth.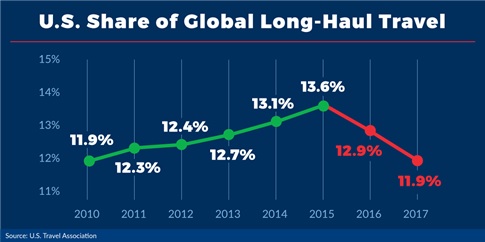 If the U.S. had maintained its 2015 market share, its economy would have gained:
7.4 million additional international visitors
$32.2 billion in additional spending
100,000 additional jobs
"America is the best country in the world to visit, but we're losing the competition for international travelers and the dollars they spend when they come here," said U.S. Travel Association President and CEO Roger Dow, whose organization is a founding member of Visit U.S. "The Visit U.S. Coalition is founded on the principle that we can have strong security but at the same time welcome robust numbers of international business and leisure travelers. We can do both.
"Visit U.S. is committed to helping make the U.S. both the most-secure and most-visited country in the world."
Founding members of the Visit U.S. Coalition include the:
American Gaming Association
American Hotel & Lodging Association
American Society of Association Executives
Asian American Hotel Owners Association
International Association of Exhibitions and Events
National Restaurant Association
National Retail Federation
Society of Independent Show Organizers
U.S. Chamber of Commerce
U.S. Travel Association
The U.S. was one of only two destinations in the top dozen global markets to see a decline in long-haul inbound travel since 2015. The drop stands in stark contrast to other large economies around the world. Notable among the countries whose tourism shares have recently grown: France, Germany, Spain and China.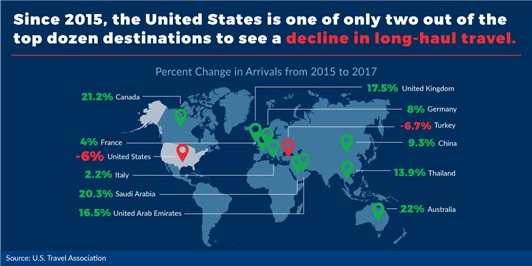 That trend bodes poorly for U.S. performance in trade and job creation. Travel is a Top 10 employer in 49 states and the District of Columbia, and international travel is the country's No 1 service export and No. 2 export overall.
In the coming weeks, Visit U.S. will advance policy recommendations that support its shared objectives with the Trump administration.
"International visitors are of vital importance to the gaming industry and the United States economy," said American Gaming Association President and CEO Geoff Freeman. "We are excited to partner with our peers in the business community and eager to work with the Administration and Congress to ensure that the United States is the world's most secure, attractive and welcoming destination."
"Travel and tourism is our country's second largest export and we can't afford to lose ground to other countries," said American Hotel & Lodging Association (AHLA) President and CEO Katherine Lugar. "Fewer visitors means fewer hotel stays, fewer meals eaten in our restaurants, fewer goods purchased in our retail stores, and fewer visits to our national attractions. It also means fewer American jobs and a loss to our economy. We are committed to working together with the Administration to balance a welcome message with strong security to ensure we don't fall behind to other countries."
"The U.S. economy is on the upswing, but we can grow even more by encouraging more travel to America," said U.S. Chamber of Commerce President and CEO Thomas J. Donohue. "Travel creates jobs and economic activity across a swath of industries and sectors as people visit the U.S. and spend their time and money with American businesses. The Chamber is proud to join with our partners in the business community to make the case for a renewed focus on travel as a driver of economic growth and American prosperity."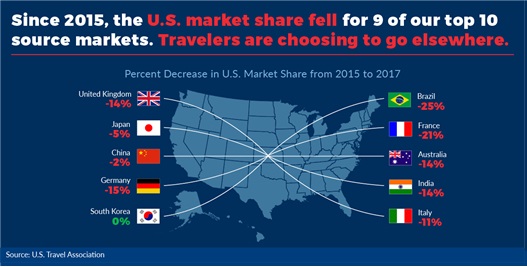 The Visit U.S. Coalition represents a broad cross-section of industries that have come together to address the decline in international travelers to the U.S. and resulting opportunity cost to the U.S. economy and jobs.
---