Previous TechOvation Award Winners
2021: ShiftGenius, by UniFocus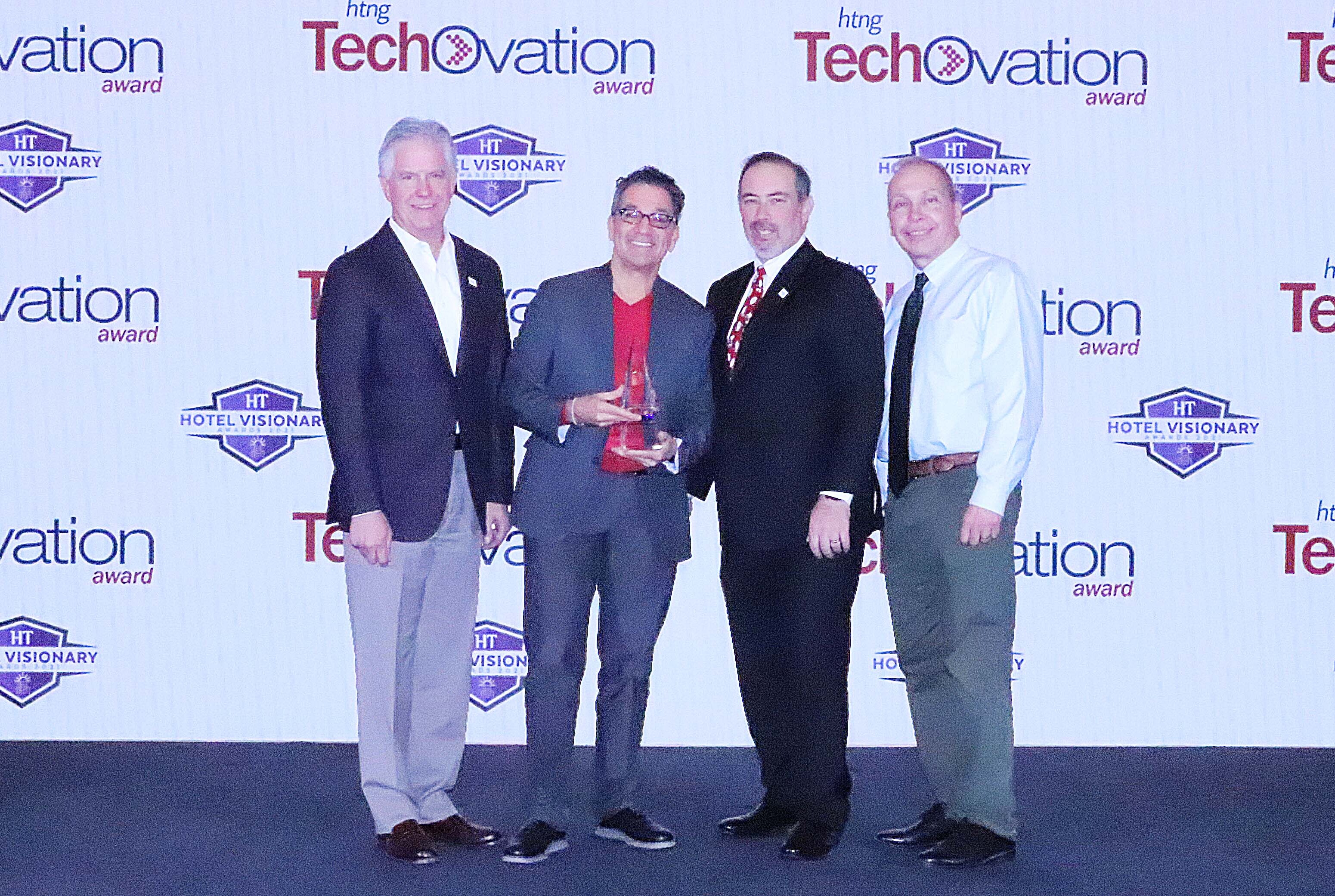 Pictured left to right: Kevin Carey (COO, AHLA); Chris Durso (National Sales Director, UniFocus); Michael Blake (CTO, AHLA); Robert Firpo-Cappiello (Editor-in-Chief, Hospitality Technology magazine)
About ShiftGenius:
ShiftGenius allows managers to target whom they want to send open shift(s) to, based on rankings or groupings like seniority and skills or cross-utilization across one or multiple properties. Managers have real-time visibility into availability, overtime, and other work rules as employees pick up and swap shifts within boundaries set up to control costs and keep employers compliant. Managers can plan for higher demand and see issues early while employees benefit from schedule flexibility.
---
2020 Winners: enseoCONNECT (by Enseo), InnSpire ReviewMagic.AI (by InnSpire), Nonius Cast (by Nonius) and YooniK ID (by YooniK)
enseoCONNECT - Enseo
enseoCONNECT allows guests to use their own mobile devices to control their TV, room lights, window shades, thermostats, and other connected devices in their room. This unified remote approach does not require guests to download an app, maintain a login or touch the guest room remote. Guests do not even have to join the hotel Wi-Fi network. Instead, guests simply pair with the TV for instant access and control of their entire connected in-room experience.
InnSpire ReviewMagic.AI - InnSpire
What if you had a simple dashboard that continuously interpreted the entire world of online reviews for you and your team, and made sure any issue got flagged, quantified and fixed? An AI that relentlessly scanned, analyzed, understood and prioritized the untamed onslaught of data out there - and visualized it in simple graphs and to-do's - and either fixed issues automatically, or assigned the right person to the job? ReviewMagic.AI - Close the feedback loop.
Nonius Cast - Nonius
Nonius Cast offers guests a homelike Chromecast experience. Guests only need to be connected to the Hotel Wi-Fi. We believe we have the best solution in the market in terms of usability and compatibility with existing TVs and Wi-Fi infrastructure. Any TV and Wi-Fi is supported.
YooniK ID - YooniK
YooniK ID is an identity SaaS cloud platform which allows hoteliers to instantly recognize loyal customers with 99.99% accuracy, in full compliance with data privacy regulations, and quick and easy onboarding via mobile or kiosk. Using facial recognition, YooniK ID allows hoteliers to have truly frictionless check-in and restaurant access as the hotel environment and objects, such as room doors, front desk, breakfast lounge can rely on AI to recognize customers.
---
2019 Winner: GuestMagic.AI (by InnSpire)
GuestMagic.AI is a patent pending globally awarded online AI-driven platform for hoteliers that uses machine learning to anticipate the next step of the guests to deliver a more personal hotel guest journey – Meaning the right communication at the right time – across all devices and channels. In order to create a more personal hotel experience, it's device agnostic from smart-phone to tablet to TV to voice and beyond. Using big data from previous (anonymous) stays, combined with Face Recognition and Social Media, InnSpire's GuestMagic.AI aims to create a personal hotel journey for each guest – per automation.
---
2018 Winner: Beekeeper (by Beekeeper)
Beekeeper is a digital workplace app where operational systems and communication channels live within one secure, intuitive platform. Beekeeper connects desk and non-desk employees across locations and departments in real time via mobile or desktop, and includes an intelligent dashboard to help companies improve internal communication and streamline business processes.
---
2017 Winner: Angie (by Angie Hospitality)
Angie is the world's first voice-based guestroom assistant and integrated room-control device, featuring a highly intuitive multi-lingual voice interface that responds to guest/staff requests, and route via SMS/email, call or directly into existing hotel systems. Angie integrates with lighting, thermostat, telephone, TV systems, room service, housekeeping amenities, provides local information and much more. Using robust in-room access points, Angie provides secure, customizable in-room access points, Angie provides secure, customizable in-room Wi-Fi, allowing all guest devices to seamlessly interoperate.
---
2016 Winner: TCP/IP-based Water Management System (by INTEREL)
INTEREL's new TCP/IP-based Water Management System allows guests to have instant control over the water flow and temperature in their room. This means they can select personal water preferences with the simple touch of a button, instead of struggling with adjusting unknown basin and shower faucets till they find their preferred temperature. Through the integration with the INTEREL online Guest Room Management System, different maximum water temperatures can be predefined based on guest or housekeeping presence in the room. The controls also allow guests to select their preferred settings and the 'Eco' mode automatically selects the most water and energy-efficient settings, allowing guests to contribute to the hotel's sustainability program even further.
---
2015 Winner: connectBsmart (by INTEREL)
The INTEREL 'connectBsmart' beacon framework enables today's limited Bluetooth Smart Low Energy (BLE) beacon technology to be fully realized as truly networkable infrastructure. Traditional beacon technologies are offline, battery powered and non-upgradable. When embedded in INTEREL's intelligent guest room control panels throughout a hotel, the 'connectBsmart' beacon framework enables INTEREL's derivative Bluetooth Smart BLE beacons to be managed as infrastructure. The beacons are powered and online, remotely upgradable and configurable, deliver two-way communication and are fleet managed.