January 23, 2022
Los Angeles, CA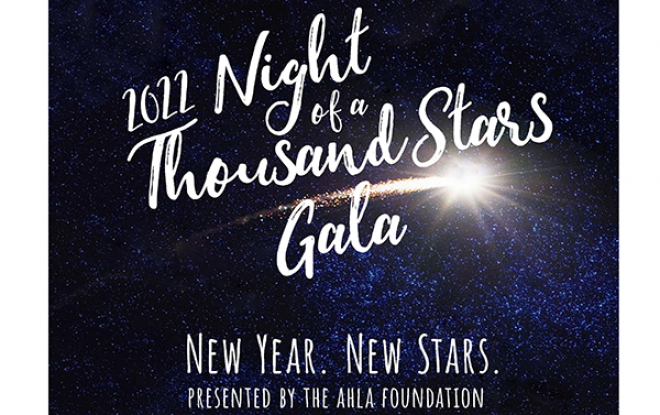 About the Event
You are invited to join the American Hotel & Lodging Foundation in Los Angeles for the 4th Annual Night of a Thousand Stars Gala on January 23, 2022. This year's Gala returns to the Intercontinental Los Angeles Downtown – our Presenting Sponsor—on the night before ALIS. Make your plans to our industry for this incredibly inspiring celebration filled with food, fun, and stories of resilience and opportunity. We will celebrate the workforce that powers our industry and raise critical support for the AHLA Foundation programs that are helping recruit and retain the industry stars of tomorrow. See you in Los Angeles!

The 2022 Stars of the Industry Award Nominations: Portal has closed! Please join us to see the winners of our 2022 Stars of the Industry Awards! 
Thank you to all our members who nominated their Stars! Join us on January 23 for the Night of a Thousand Stars Gala in Los Angeles to see our Stars receive their Awards.
Sponsorship Opportunities 
We look forward to seeing you on January 23, 2022 as we recognize the Foundation and honor our Stars of the Industry.  
For sponsorship opportunities, please contact Lindsay Miller.
Sponsorship Level
Amount
Presenting  Sponsor
$50,000
Visionary Sponsor
$25,000
Benefactor Sponsor
$15,000
 

Presenting Sponsor - $50,000
Opportunity to address the audience at Night of a Thousand Stars gala
Inclusion in the pre-event communication, pre-event press release and two social media posts with a quote from executive at your company
Opportunity to be recognized as sponsor of the Chairman's Reception, including exclusive branding and logo recognition
All benefits of Visionary Sponsorship
Visionary Sponsor - $25,000
Ten tickets with prominent seating at the dinner ceremony
Opportunity for company executive to be included in video montage recognizing all Visionary Sponsors
Corporate logo recognition on signage, printed collateral, media presentation and on-site giving platform at the event
Unique co-branded media at the event to highlight company's support of the Foundation/event
Benefactor Sponsor - $15,000
Eight tickets to the Night of a Thousand Stars dinner ceremony
Company listing on all signage, printed collateral and media presentation at Night of a Thousand Stars*
Inclusion in a thank you ad in prominent trade publication following Night of a Thousand Stars.
---