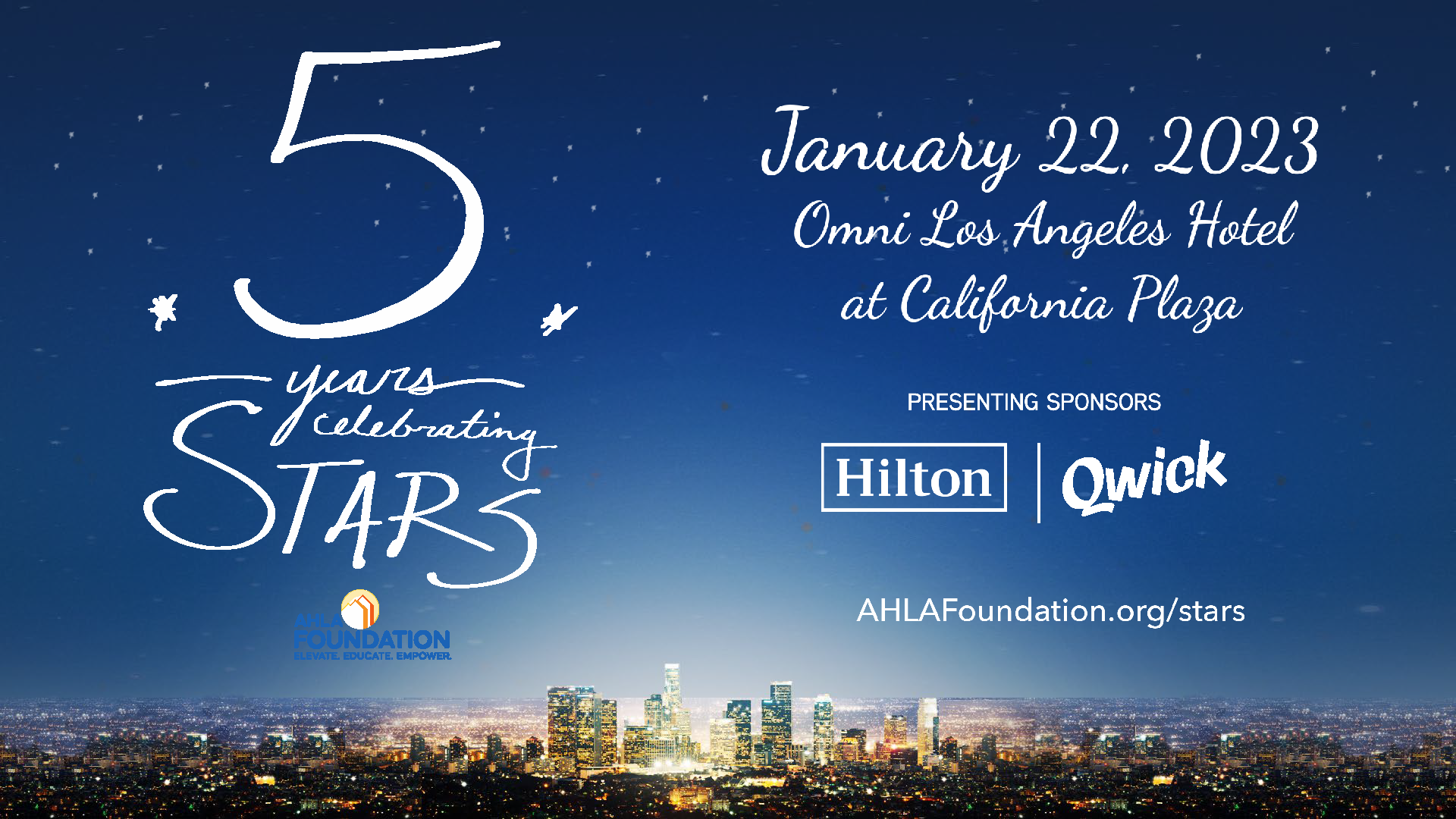 2023 Night of a Thousand Stars
The American Hotel & Lodging Foundation will celebrate a milestone 5th Annual Night of a Thousand Stars Gala on January 22, 2023 in Los Angeles. This year's Gala will be celebrated at the Omni Los Angeles Hotel at California Plaza. Each year, the Night of A Thousand Stars gala celebrates the hotel industry's most important VIPs – the property-level talent that makes the industry so unique. Throughout the evening, industry leaders commemorate the 2023 Stars of the Industry Award winners and the diverse individuals that embody the spirit of hospitality, while raising critical funds to support Foundation programs that are helping recruit and retain the industry stars of tomorrow.
The American Hotel & Lodging Foundation raised over a record $845,000 at its 2022 annual gala to fund programs aimed at grooming and growing a diverse industry workforce. And we have even bigger plans to celebrate our 5th Anniversary Gala in January! Make your plans to join us in Los Angeles on January 22, 2023. Last year's event sold out so please reserve your seat today!
Sponsorship opportunities are below and your support directly benefits the heart of hospitality—our workforce! Please reach out to Lindsay Miller, lmiller@ahla.com with any questions.
Sponsorship Opportunities
Presenting Sponsor - $50,000
Opportunity to address the audience at Night of a Thousand Stars (NOTS) Gala

Invitation for 10 guests to attend the Gala dinner with prominent seating and recognition from the stage.

VIP Reception invitation for all guests.

Logo inclusion on all signage, printed collateral, web and earned media, and digital assets.

Unique co-branded media onsite to highlight company's support of Foundation and event.

Logo recognition in prominent trade publication before and following the event

Highlighted as Night of a Thousand Stars sponsor in 2023 AHLAF Annual Report

Opportunity for AHLAF to send company job board link to our list of scholarship recipients (approximately 400 student contacts)
Visionary Sponsor - $25,000
Invitation for 10 guests to attend the Gala dinner and recognition from the stage.

VIP Reception invitation for up to 2 guests.

Opportunity for company executive to be included in video montage recognizing all Visionary sponsors.

Logo inclusion on all signage, printed collateral, web and earned media, and digital assets.

Unique co-branded media onsite to highlight company's support of Foundation and event.

Logo recognition in prominent trade publication before and following the event

Recognized in 2023 AHLAF Annual Report

Opportunity for AHLAF to send company job board link to our list of scholarship recipients (approximately 400 student contacts)
Benefactor Sponsor - $15,000
Invitation for 8 guests to attend the Gala dinner and recognition from the stage

Opportunity for up to two AHLAF invited guests (beneficiaries, board members, etc) to be seated at your table.

Company listing on all signage, printed collateral and media presentation

Listing in prominent trade publication following the event.

Recognized in 2023 Annual Report
Patron Sponsorship - $5,000
½ Table for 5 guests to attend the Gala

Company inclusion in the media presentation during the Gala