O'Connor & Associates is the largest property tax consulting firm in the United States, representing over 200,000 properties in 45 states.  The firm was founded in 1974 and employs about 700 professionals worldwide.  O'Connor is best known as the hotel property tax experts in the industry.  The O'Connor Approach, a proprietary methodology to calculate intangible business value of hotels, it was developed by O'Connor's Hotel Division.  This revolutionary methodology  was registered with U.S. Copyright Office #TX8-914-633 and is used exclusively by O'Connor.  The O'Connor Approach is a game changer for the hotel industry to challenge the Rushmore Approach used by most tax assessors.  Thousands of hotels represented by O'Connor each year benefited from significantly higher property tax savings than they have ever had before. 
With massive resources available to track all sales transactions and comparable valuation, O'Connor is able to provide the best market approach and Uniform & Equal analysis for tax appeal hearings.  Unlike other tax consultants, O'Connor prepares all tax appeal evidence and coordinates with attorneys and appraisers in each state to maximize the potential tax savings for clients.  O'Connor is a Silver Partner member of AHLA and a Silver Member of AAHOA.  O'Connor actively participates and assists members of both organizations with free educational seminars over the years.  In addition to hotel tax appeals, O'Connor also handles other commercial property tax appeals, commercial appraisals, and cost segregation studies.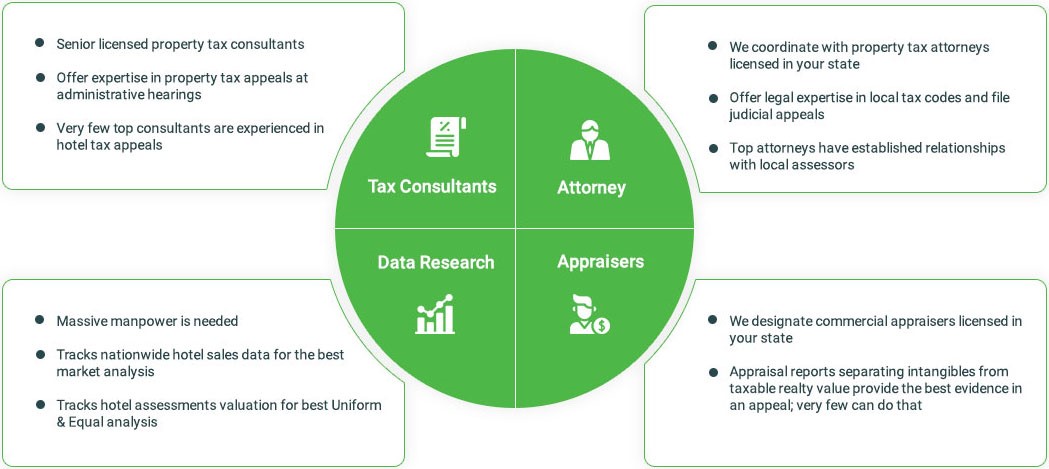 As the largest property tax consulting firm in the US, based on the annual number of appeals, our team saves our clients millions of dollars every year in property taxes. Our licensed tax agents and administrative support team help commercial property owners by filing personal property renditions, reviewing tax statements, protesting over-assessed property values and attending informal tax hearings and appraisal review board meetings. O'Connor has become a proven leader in aggressive property tax reduction, pursuing every legal avenue to protest and lower your taxes:
Informal hearings
Board of Equalization (BOE) or equivalent hearings at local and state level
Judicial appeals
What can AHLA do for you?
Learn more about partnership opportunities.
Email Today!